Distance:- 38 Km
Time:- 43 minutes
Times are for driving and stops are not accounted for.

For spectacular views of Kerry's peninsulas, follow the road from Camp to Inch. THE DINGLE Peninsula is characterised by the mountain ranges that run its length almost continuously, from the Slieve Mish Mountains in the east to Brandon in the west. There are few roads crossing over these mountains with the most famous being (deservedly) the Conor Pass, which links Dingle to the northern coast of the peninsula.
But there is another significant road that traverses these mountains and, while not as spectacular as the Conor Pass, it warrants exploration in its own right.
The road runs almost parallel to the N86 from Camp just inland from the northern coast to Inch just inland on the southern coast.
Drive the short distance from Castlegregory to its neighbouring village of Camp. The Irish name of the village makes more sense: an Com (the hollow). Gearhane rises to the east of the village and its sandy beach on the shores of Tralee Bay and the road, which is signposted for Inch in the village of Camp, rises rapidly to a viewing point from where there are fine views back over the bay and on towards Castlegregory to the northwest.
Not much further along is a sign for the Fort of Caherconree. This a stone promontory fort which is believed to be the highest in Ireland.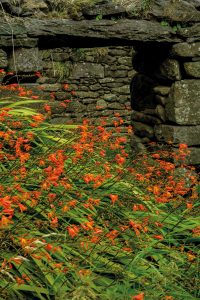 It's well worth the short diversion which takes you close to the fort near the summit of Caherconree (851m) from where there are magnificent views of the peninsula.
Caherconree means the Fort of Curaoi, who was king of west Munster in the first century, and about whose magical powers there are many legends. Such was his fame that he was referred to in Welsh legend as "one of the gods".
Having regained the road to Inch, we now travel through a barren mountainscape which slowly begins to descend towards Inch and the south coast of the peninsula. To the west rises Knockbeg (379m), and Moanlaur (566m) to the east, but the view is dominated by the vista of Dingle Bay and the Inveragh Peninsula opening up to the south.
Inch comes from the Irish inse meaning "the holm", which is a piece of flat ground, usually near a river, which is submerged in time of flood, and the village has a history of being a haunt of 18th century ship-wreckers and is also the site of Iron Age beach dwellers.
There is a superb 6km beach which was featured in some of the scenes in David Lean's film Ryan's Daughter.
This is a pleasant road slightly off the beaten track and well worth taking the trouble to explore. The views it provides, particularly to the south over Dingle Bay and of the Inveragh Peninsula, are unusual and spectacular and are views seen, I suspect, by few tourists.