Distance:- 57 Km
Time:- 1 hour 14 minutes
Times are for driving and stops are not accounted for.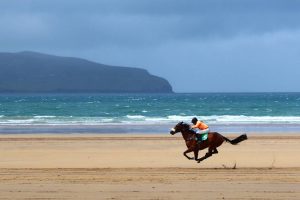 A very easy drive from Castlegregory to Brandon Point but one that could take all day if one is in the spirit of adventure. Skirting the coastline keep your car window open and have the smell of the sea fill your lungs. Check out the beaches, the fantastic view, the history of the area and of course the people who will warm to your arrival at any location. Enjoy the local eateries and admire the views from Brandon point. You could if time allows take the hill walk to Sauce Creek (2hrs)
and forget about the world around you in this isolated but beautiful location. On the return head into the valley for Lough Duff where you will experience beauty like no other. If you have time you could climb to the top of the mountain by the path in front of you. At the top you will see views of Dingle and farther a field to the Blaskets and to Kerry Head to the North. A day full of adventure and such a short distance form base. Enjoy.