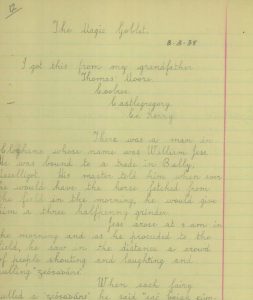 I got this from my grandfather Thomas Moore, Coolroe, Castlegregory, Co. Kerry.
There was a man in Cloghane whose name was William Jess. He was bound to a trade in Ballymacelligot. His master told him when ever he would have the horse fetched from the field in the morning, he would give him a three halfpenny grinder.
Jess arose at 3 am in the morning and as he proceeded to the field, he saw in the distance a crowd of people shouting and laughing and pulling "geósadáns".
When each fairy pulled a "geósadáns" he said "each bréag fúmsa", and immediately he was sitting on a lovely fairy horse. They were going until they landed in the capital of Spain.
There was a wine-store near by, and the queen of the fairies ordered William to remove a white dog from inside the door as they could not enter while the dog was there. William entered again, and taking an over-dose of wine, forgot the promises he had made. Shouts from outside excited him. He rushed out furiously, bringing with him the Goblet from which he was drinking, and when he landed in Ballymacelligot he was found the next morning, fast asleep in the field still holding the Goblet in his hand.
https://www.duchas.ie/en/cbes/4687700/4685284/4688617?ChapterID=4687700