Extract from 'The Land and People of Maharees and Castlegregory: A History 1560-1960' by Martin Lynch.
MAHAREES REGATTA of bygone days
'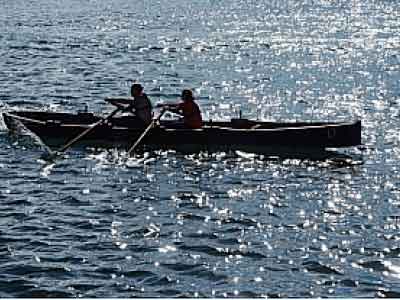 When the holding of regattas commenced at the newly-constructed Scraggane Pier on 1 December 1900, they proved immensely popular. During the following years, the regatta at Scragggane was held in conjunction with a sports day on the beach at Ceann Duimhche. The holding of organised regattas allowed the Maharees and Brandon crews to renew their age-old rivalry. In 1905, the Maharees crew defeated Brandon for the first time in almost twenty years. To the disappointment of everyone present, the Brandon crew refused to attend at the Maharees regatta and sports day, held on 26 August of the following year. According to The Kerryman, they stayed away on account of the beating they had received the previous year and that "their chances of winning were nil." A new feature of the 1906 regatta was the race for fishing nobbies under two tons. This was a head-to-head contest between Ceann Duimhche publican Thomas J. O' Connor's boat Irish Molly, and the Welcome, owned by Kilshannig fisherman, Robert Goodwin. The Maharees crew again defeated the Brandon men at the 1907 Maharees Regatta. Fears that the following year's attendance would be curtailed by an increase in temperance pervading the district, did not materialise. The regatta, held on 2 September 1908, was a great success as many in Tralee used the money saved on drink to travel on the train which had to strain every sinew to accommodate the large crowds that flocked to Maharees.
As the events got underway, shouts could be heard from the assembled throng of 'Up Kerry', 'Up Maharees', 'Up Castle' and up every other village from Deelis to Brandon. It was thought that the Brandon crew would again fail to attend but at the last minute a steamer was procured and laden to capacity at the Quay. With a large crowd from Brandon on board, and a new four-hand currach in tow, the steamer arrived at Scraggane amidst great cheering. Built by Edmond Hartney from Brandon, the new currach was admired by all. In the main race it secured victory for the Brandon men who regained the title they had lost the previous year.' Extract from 'The Land and People of Maharees and Castlegregory: A History 1560-1960' by Martin Lynch.