Castlegregory Village Family Cycle
Castlegregory–Caher Bridge– Lough Gill–Village–Sandy Bay–Castlegregory beach– Village Playground–Castlegregory.
Distance:- 12 Km
Highest point :- 13 m
Time:- as long as you want.
https://www.plotaroute.com/route/1485468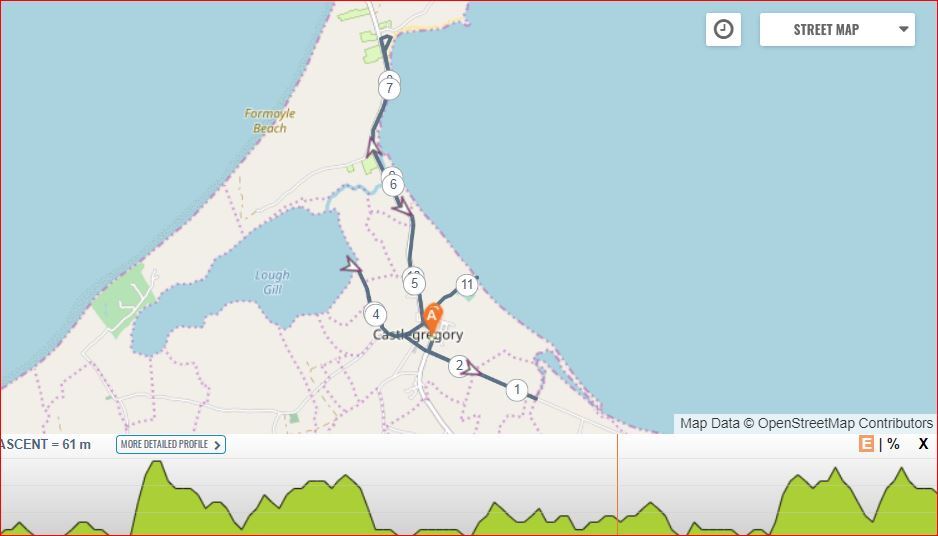 This very easy and flat cycle takes  in Castlegregory and some places in the vicinity. Suitable for family with plenty of stops along the way. Spend some time at the stops along the way and before long you will be enjoying a very enjoyable day.
Staring in the village head for Caher bridge a very easy cycle but popular for crab fishing depending on the tides. Learn all about marchlands and the flora and fauna. next head back to the village and go to Lough Gill. Spend some time admiring the view and the wildlife that is in adudence here. The largest collection of swans in west kerry. Sit and listen to the silence of the countryside. Now head for Sandy Bay and here you will find watersports activities for all the family or just build a sandcastle. you can then start your journey back to Castlegregory but do visit Castlegregory Beach on the way. Another chance for the kids to run wild on open beaches. Back on the bike and to the village playground to burn off the reminder of that energy while parents take a break, Enjoy a coffee or ice cream from the local shop. What a way to spend a great day. I'm sure the kids will sleep that night.