Camp — Gleann nGealt — Castlegregory — Maharees — Stradbally — Kilgobbin — Camp
Route:- https://www.plotaroute.com/route/1485253  
Distance: 43 km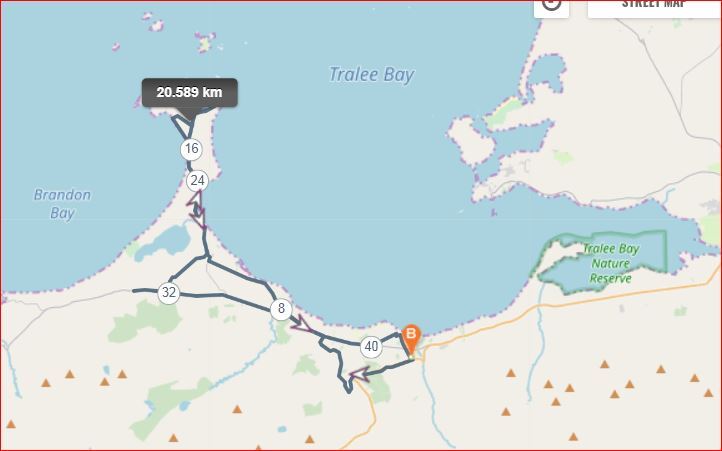 Height gain: 328m
Duration: 2.25 hours
Grade: Moderate

Ancient folklore with a breath of sea air, in the concealed laneways of west Kerry. Once in the Gleann na nGealt ('Valley of the Mad'), the route twists back in a northerly direction along a steady descent. When in the valley, keep an eye out for the ancient well on the left-hand side of the road. Legend has it that the waters have healing properties for madness; tests in 2012 found higher-than-normal traces of lithium in the water, proving there is an element of truth in this local legend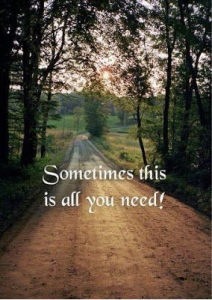 This is a meandering cycle partly among the sand-dunes of the Maharees peninsula west of Tralee on the Dingle peninsula. A lovely, lazy day promises with mountains, sea, sand and lung fulls of fresh air.
Start at Lower Camp, 16km west of Tralee. Cycle left towards Annascaul through upper Camp and straight away stunning views are your reward. A kilometre after the village turn right for Foilatrisnig and descend into Gleann nGealt reminiscent of the lower Alps we are assured — streams, wild flowers and abundant foliage.
Descend the valley and go left at a T-Junction; another left after 500m; and a right at a derelict cottage when you meet the T-Junction. This leads to the R560 — head left towards Castlegregory.
Take a right after 800m as the maw of the Atlantic opens up in front of you. Up ahead a left takes you onto the Dingle Way and onwards to Castlegregory. Turn right at Tailors Road and straight through the crossroads to the Maharees.
The road hugs the harbour with wonderful views of Mount Brandon. Pass Spillane's Bar and take a break at Fahamore Harbour and rest those weary spokes. Head back to the bar and after 500m go left. A mighty 6km ahead brings you back to Castlegregory.
Veer right to our next village: Stradbally. After the village turn left onto the R560 towards Camp/ Tralee. Some 3.5km after the Seven Hogs bar take a left towards the hamlet of Kilgobbin. The road twists now before rejoining the R560. One last push up the hill to the finish.
Worth a coffee or two at Dwyer's service station and time to reflect and unwind.