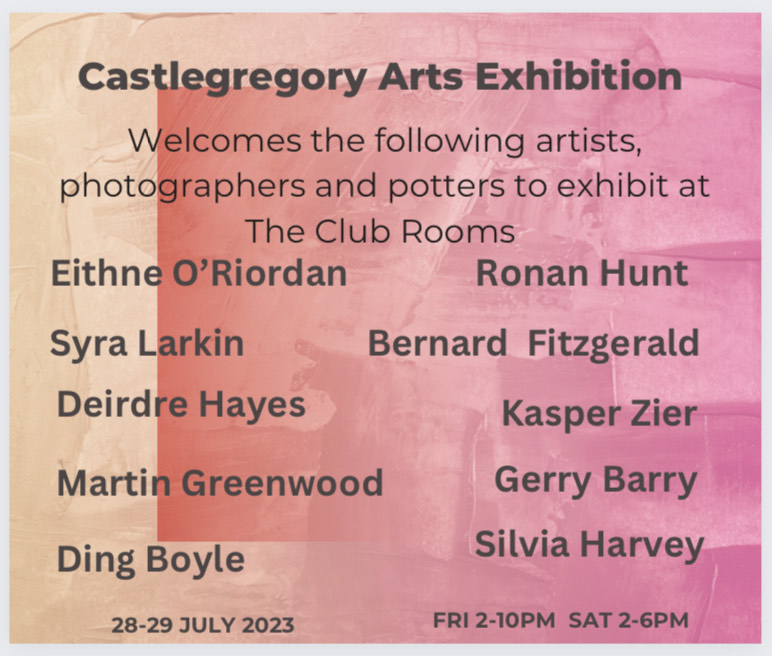 Castlegregory is set to become a haven for art enthusiasts as it hosts the eagerly awaited Summer Art Exhibition. Showcasing an exquisite collection of mixed media artworks, this event brings together painters, potters, and photographers local and national. The exhibition promises to captivate the senses and inspire the imagination, nestled in the heart of the village at the prestigious main hall of the renovated Clubrooms!
Artists:
Syra Larkin, Eithne O'Riordan, Gerry Barry, Deirdre Hayes. Kasper Zier & Sylvia Harvey
Photographers:
Bernard Fitzgerald, Martin Greenwood & Ronan Hunt
Potters:
Ding Boyle
Date: Friday, July 28th, 2:00 PM to 10:00 PM & Saturday, July 29th, 2:00 PM to 6:00 PM
Venue: Main Hall, Castlegregory Clubrooms, Tailors Row
Admission: FREE entry for all visitors
Contact: Castlegregory Information Centre castleinfocenter@gmail.com
The event opens its doors to all, welcoming both seasoned art enthusiasts and those curious to see what the Castlegregory area has to offer. Please join us!