Think Before You Flush is a public awareness campaign about the problem sanitary products and other items can cause in our marine environment and our wastewater systems if they are flushed down the toilet. The campaign is operated by An Taisce's Clean Coasts programme and is supported by Irish Water. The Think Before You Flush campaign invites you to join us in making small changes in your bathroom behaviour like never using the toilet to dispose of sanitary products. http://thinkbeforeyouflush.org/
https://youtu.be/SuNlFGJAhcI
Clean Coasts commissioned a survey of the nation's flushing behaviour. We wanted to find out:
Who disposes of waste in this manner?
What sewage related litter items do they dispose of?
Why do people flush these items down the toilet?
What can be done to encourage a change in behaviour?
We wanted to understand the nation's flushing behaviour and to do this we use the following metrics:
Incidence levels within the Irish population of sewage related littering;
Reasons for littering in this way;
Awareness of the implications of disposing of litter in this manner;
Attitudes towards sewage-related littering
Who was surveyed?
1,033 adults aged 18+ were surveyed. Quotas were set and final data weighted to known national profiles of adults aged 18+ on age, gender, class and region to ensure that the sample is representative of the total Irish population.
What did we find out?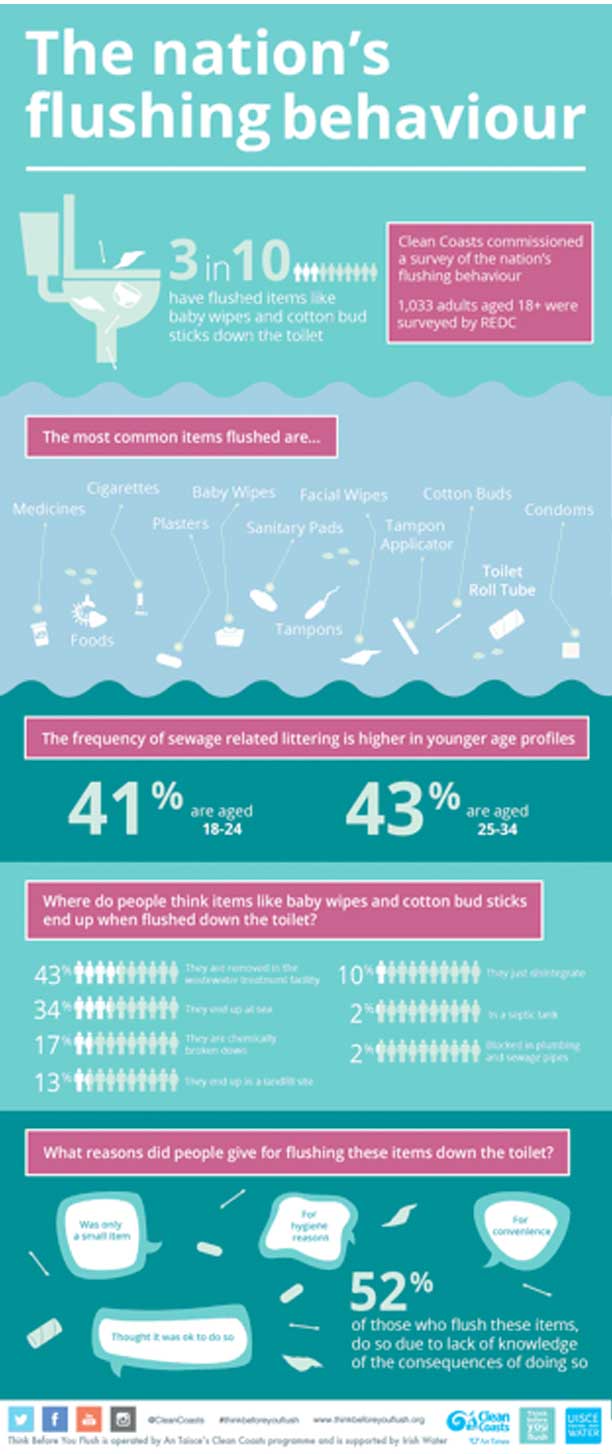 3 in 10 Irish adults have flushed items down the toilet. This figure is higher among those under 35.
Lack of knowledge is the primary reason for sewage-related littering among those who do so. The destructive nature of such behaviour is not common knowledge.

1 in 4 believe these items are chemically broken down
1 in 2 think they just disintegrate following flushing.

Females are more inclined to flush baby products and female hygiene products down the toilet.
Males are more likely to flush cotton buds, cigarette butts, plasters and condoms.
When it comes to encouraging people not to engage in sewage-related littering, 1 in 4 of the total sample suggest demonstrating the consequences of such behaviour is the way to go, with 1 in 3 who have done so endorsing this option.
Are you ready to play your Part?